PRODUCT SUMMARY
Ze-PRO IPcam, Ze-PRO IPmon and Ze-PRO IPrec are protocol stock libraries developed by ZUKEN ELMIC which enable users to implement ONVIF (Open Network Video Interface Forum) protocol in their system effectively and efficiently . These products enable easy development of network cameras, video cameras and video recorders compliant with the ONVIF specifications.
Contuct us
SPECIFICATION

FEATURE
Support ONVIF Core Spec Ver.21.12(IPcam、IPmon)
Support H.264、H.265(HEVC) and TLS
Passed the ONVIF Test Spec. Ver.21.12(Only for NVT)
Profile T, S, M (IPcam, IPmon) and Profile G (IPcam, IPrec ) are supported so that users can easily implement interoperability of specific features to save footprints by selecting minimum necessary functions only.
Enables easy control of media by integrating with Ze-PRO RTP
Enables easy porting as OS/system/device dependent parts are separated.
Sample programs (CUI/GUI) is included which enables immediate connection to a NVT over the network and reproduction of media
Provides technical support, customization and system integration services backed with IP camera expertise.
Long track record in ONVIF and streaming.
provision
source code
(customizable by enduser)
binary code
required environment
Windows, Linux
Windows, Linux
Software Modules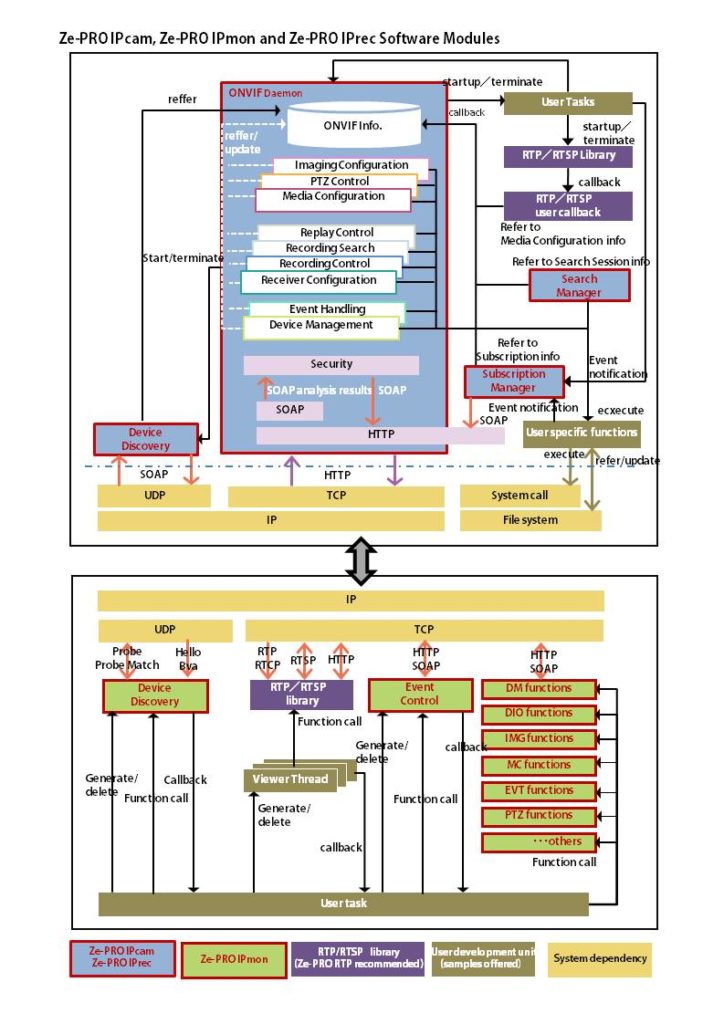 Support Service
Technical support service and design consulting service is available.
You may also be interested in